Automatic Watch Winder Rotation Luxury Display 2/4+6 Watches Box Storage Case US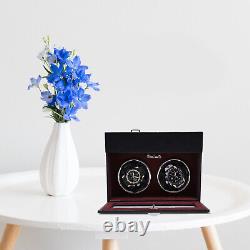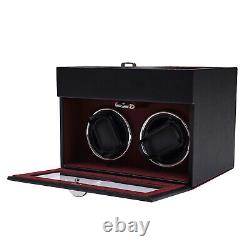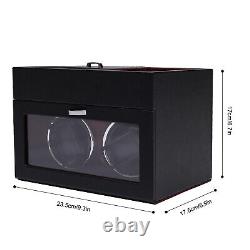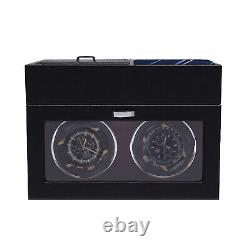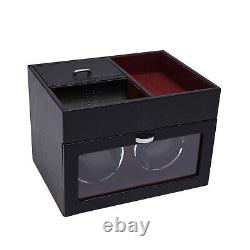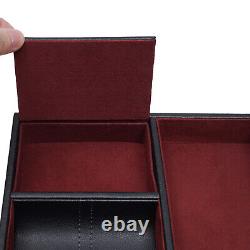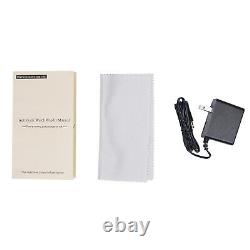 Watch Winder for 2 /4 Automatic Watches LED Illumination Flexible Watch Pillow. An Exquisite Watch Is a Symbol of a Successful Person, so How to Store It Also Becomes Crucial. This Automatic Watch Winder from Us Has a Built-in Blue Led Illumination That Looks Cool in the Dark. The Soft and Flexible 2 Pillows Can Put down Different Sizes of Watches, Which Can Nobly Display Your Watch and Your Loved Ones at the Same Time. Luxury Appearance : This Automatic Watch Winder Is Wrapped in High-quality Pu with a Discreet Black and Burgundy Color to Show a Sense of Luxury.
Use It to Store Watches and Show off Your Collections. Enhance Your Taste : It Has Built-in Blue Led Lighting, Which Looks Cool in the Dark and Is Easy to Use at Night. Its Modern and Stylish Design Subtly Embellishes and Enhances the Taste of Life. Flexible and Adjustable : This Watch Winder Is Equipped with 2 Retractable Watch Pillows, Which Can Be Pressed to Adjust Their Lengths.
This Unique Design Fits Different Sizes of Watches. High-quality Fabric : It Is Made of High-quality Artificial Leather Fleece and Plastic Inside, and Wrapped with High-quality Pu Outside, Which Is Flexible, Soft, and Avoids Scratches.
So It Can Not Only Protect Your Watch Better but Is Also Very Durable. Low Noise : It Adopts an Imported High-quality Silent Motor, so It Produces As Little Noise As Possible. When Falling Asleep, You Won't Even Realize the Watch Winder Is There.
Cool Mode : When You Open the Cover of These Watch Winders Midway, It Will Stop Spinning. When You Close It, It Resumes Spinning Again. This Is a Much Cooler Way to Show off Your Watch. Ideal Storage : This Watch Winder Not Only Has Two Main Pillows for the Watch but Also Three Additional Storage Slots on Top to Hold Small Parts to Avoid Losing Them, Which Is Very Convenient. Ideal Gift : This Automatic Watch Winder Is Suitable for Both Men's and Women's Watches, so It Is an Ideal Gift for Anniversaries, Mother's Day, Father's Day, Birthdays, Valentine's Day, Etc.
Anti-magnetic Design : the Cover Is Composed of a Snap and Highly Transparent Acrylic Glass, Which Not Only Protects Your Watch from Magnetization but Also Brings out the Nobility of the Watch. Smooth Surface : the Pu Surface Is Very Smooth, so It Not Only Won't Scratch Your Hands but Also Is Very Easy to Clean. You Just Need to Wipe It with the Cleaning Flannel Provided in the Package to Make It Look New. Independent Switch : the Led Light and Mode Switch Are Independent, so You Can Control the Led Light and Mode Independently, Which Is More Convenient and Power-saving.
It Can Be Used to Display Different Brands and Sizes of Watches Placed in the Bedroom, Living Room, and Office. Material: Pu, Plastic, and Artificial Leather Velvet. Operation Mode: Turn Clockwise for 2 Min, Stop for 6 Min, Then Turn Counterclockwise for 2 Min, Stop for 6 Min, and Repeat.
Package Size: 26.521.520cm/10.438.467.87in. Product Size: 23.517.517cm/9.36.96.7in. Gross Weight: 2.33kg/5.14lbs. Net Weight: 1.76kg/3.88lbs. Please Allow the Slight Color Difference Caused by the Shooting Light and 1-3cm Error Due to Manual Measurement, and Make Sure You Do Not Mind Before You Place the Order.
Model :B/C (Just a different color inside the box). Our watch winder box is made of high-quality density board, PU and glass which is durable, sturdy and has a long service life. Keep your mechanical watches accurate with this winding box!
It has ultra-quiet motors with precision design and various rotation modes, which suit most types of mechanical watches and bring you a quality life. Excellent Materials: We use high-quality density board, PU and glass which is harmless to users, odorless, anti-wear, anti-oxidation, or non-deformation. Simple and Modern Style: The simple style and black color of this watch winder box are very beautiful and matchable. The versatility of its modern design will add a touch of character to your home.
Dust-Proof and Highly Transparent Glass: This watch winder box has glass with high strength and transparency. This glass is not only dust-proof but also provides an unobstructed view of the interior. Five Optional Gears: This watch winder box has five rotation gears that can be freely chosen by the user to meet various needs. Professional Anti-magnetic Design: It comes with a professional anti-magnetic design, which can effectively take care of the watch movement from magnetic interference so that the accuracy and life of your watch will not be affected.
Extremely Quiet: This watch winder box is powered by a super quiet motor that produces less running noise. It rotates the watch evenly as if it is silent and does not disturb you. Open Lid Self-Stop Function: This watch winder box has an open lid self-stop function, which can reduce the damage caused by the forced blocking of the movement every time, and the response is flexible without delay. Large Storage Space: This watch winder has box 4 winder spaces and 6 storage spaces which are ideal for people with a lot of watches and for storing family watches.
Easy to Use: You just need to turn the switch on the back of the product and select the rotation mode you need. After selecting, you don't need to operate again, which saves your effort and time. Wonderful Gift: The watch winder box is an ideal gift for friends, watch lovers, and family on birthdays, Christmas, and Father's Day because it is not only useful but also can decorate the room. Easy To Clean: The surface of this watch winder box is wrapped by PU, which is very smooth. You only need to wipe it with a cloth, and then it will shine like a brand-new one. Customer Service: We aim to provide quality products and services. We will reply and solve the problem for you as soon as possible.
LED Ambient Light: This watch winder box has blue LED ambient light, which can add a high-end style to your watch box and is convenient for you to use at night. The product has a separate switch on the back, so you can turn it on or off according to your requirements. Quality Hardware: This quality hardware is silver in color and metal in material, which is very beautiful and solid. It is not easily damaged even if used for a long time. Fleece Lining: Its red lining is made of soft fleece for protecting the watch from scratches and comfortable touch.
It is suitable for dressing tables, cloakrooms, and watch stores and can be used to place normal size, women's small size, or men's oversized watches. It can also wind your mechanical watches. Gear 2: Turn clockwise for two minutes, stop for six minutes, cycle. Gear 3: Turn counterclockwise for two minutes, stop for six minutes, cycle. Gear 4: Turn clockwise for two minutes, stop for six minutes, counterclockwise for two minutes, stop for six minutes, cycle. Gear 5: Turn clockwise for 5 minutes, turn counterclockwise for 5 minutes, repeat continuously for 3 hours, stop for 9 hours, cycle. Turn on the power switch. Material: Density Board, PU, Fleece, Glass. Capacity: 4 Winder Spaces+6 Storage Spaces. Watch Slot Interval: 0.8cm/0.3in. Watch Pillow Size: 6.534.5cm/2.61.21.8in. Product Size: 33.523.518cm/13.29.37.1in. Package Size: 362925cm/14.1711.429.84in. Net Weight: 2.8kg/6.17lbs. Gross Weight: 3.4kg/7.5lbs.
Please allow the slight color difference caused by the shooting light and 1-3 cm error due to manual measurement, and make sure you do not mind before ordering. Feedback is very important to us. It is impossible to address issues if we do not know about them! Faction is our ultimate goal. We work hard to earn your trust and future business.
A If you receive a defective item, you may return it or ask for a discount. Due to time zones, our reply to your questions may not be immediately. If it's non-workdays, please kindly be patient and wait till Monday. This item is in the category "Jewelry & Watches\Watches, Parts & Accessories\Watch Accessories\Watch Winders". The seller is "greatcda" and is located in this country: US. This item can be shipped to United States.
Model: A
Brand: Unbranded
Type: Watch Winder
Color: Black
Material: PU, Plastic, and Artificial Leather Velvet
Capacity: 1-10Watch
Plug: US Standard
Drive: Imported Silent Motor
Power Supply: DC
Light Type: LED(Included)