Lookout Sunglasses and Eyeglasses Organizer Storage Display Case Dresser Vale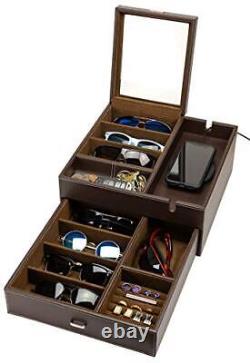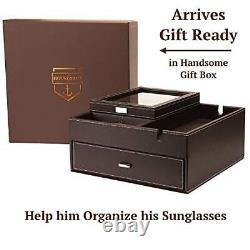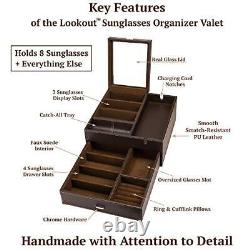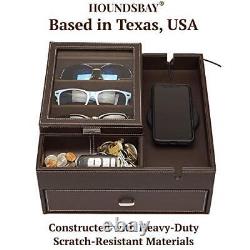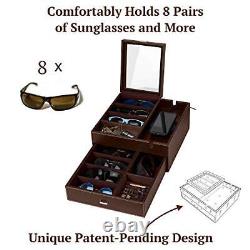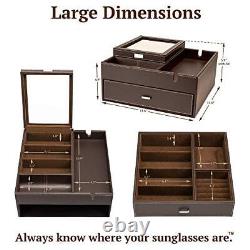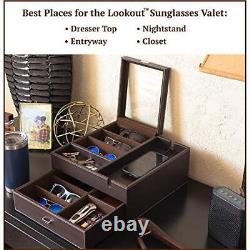 THE "LOOKOUT" IS THE SUNGLASSES STORAGE DRESSER VALET ORGANIZER - Patent Pending by, and inspired by the popular "Commander, " this large sunglasses case organizer box combines an oversize valet charging station, catchall tray, accessory drawer, and sunglasses or glasses storage slots under a real glass display lid. CHROME METAL HARDWARE, Heavy-Duty Materials, and White Stitching make this a premium quality Dresser Valet. Soft Brown Faux Suede interior lining feels great and will protect your EDC, sunglasses, glasses, knives, and jewelry from scratches.
DEEP AND WIDE DRAWER Sections hold more sunglasses, and give plenty of space to store wallets, pens, rings, cufflinks, etc. The Drawer has a special section for rings and cufflinks. Overall Lookout dimensions are 11.7" Wide X 11.7" Deep X 6.0 High. GIFT READY - Comes in a Heavy Textured Gift Box with a Shiny Logo that really adds to the "WOW" Factor when received as a gift. The "Lookout" makes a very serious impression on whoever is lucky enough to receive this Sunglasses Storage Organizer Dresser Valet Box as a gift.